New - Sign up on ebmud.com/psl to be added to the EBMUD PSL Program Contractor List.
Visit ebmud.com/psl for updates to the PSL Program.
Protecting Our San Francisco Bay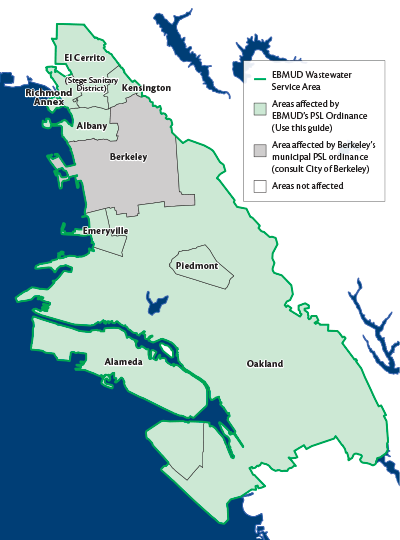 In 2009, the United States Environmental Protection Agency (EPA) and the California Regional Water Quality Control Board ordered the East Bay Municipal Utility District (EBMUD), six East Bay cities and one sewer district to fix old, cracked sanitary sewer pipes. Many pipes are in need of repair to prevent the infiltration of rainwater, which can overwhelm wastewater pipes and treatment facilities and cause partially treated wastewater to be released into the Bay. The EPA's mandate compelled EBMUD and its partners to phase in a Regional Private Sewer Lateral (PSL) Ordinance beginning in 2011. Affected property owners must obtain a certificate from EBMUD certifying that all of their PSLs are leak-free. Property owners may also voluntarily choose to have their laterals tested and certified.
Use the map (right) as a guide to determine if your property is covered by the Regional PSL Ordinance. Only EBMUD wastewater customers in the green shaded areas are affected.
The Ordinance is in effect in the following locations:

Alameda
Albany
Emeryville
Oakland
Piedmont
Kensington
El Cerrito
Richmond Annex
Note: The city of Berkeley is operating its own separate program. If your property is in Berkeley, please contact them to determine your requirements. http://www.cityofberkeley.info/psl/
PSL Program Fee Changes
New PSL Program Fees were adopted by the EBMUD Board of Directors on June 13, 2023 and will be effective on July 01, 2023. Please find more information here.
The Regional PSL Program start dates are listed below. The program is effective for escrows and building and remodeling permits opened on or after the program start date in each community or when a request is made to change the size of a water meter.
| | | |
| --- | --- | --- |
| Location | | Start Date |
| Alameda | | January 1, 2015 |
| Albany | | January 1, 2015 |
| Emeryville and Piedmont | | August 22, 2011 |
| Oakland | | January 16, 2012 |
| Stege Sanitary District | | October 17, 2011 |
| | (serving El Cerrito, Kensington, and Richmond Annex) | |
Regional PSL Ordinance Triggers
The Regional PSL Ordinance applies ONLY if you are buying or selling a property, building or remodeling in excess of $100,000, or changing the size of your water meter. Additionally, you may voluntarily have your PSL certified to be in compliance with the Regional PSL Ordinance when you are having work performed on the lateral without meeting any of the triggers.
PSL Exemptions from the Ordinance Triggers
Your PSL is exempt if it is less than 10 years old counting from the date of final permit sign-off, was fully replaced before the program effective date (see above), AND the permitting agency verifies the replacement. Follow the Guidelines for Exemption to obtain an Exemption Certificate for your property.
Complying with the Regional PSL Ordinance
To receive a Compliance Certificate for your property demonstrating that all of the PSLs located on the property are without leaks and have proper connections, proceed to the guidelines and select the condition that applies to you.
Generally, to receive a Compliance Certificate, the following steps will be taken:
Hire a contractor to inspect your PSL. Commonly, this consists of a closed-circuit television (CCTV) inspection allowing for the contractor and you to visually see the condition of your PSL, including instances of offset joints, root intrusion and cracked or broken pipe segments that would prevent your PSL from passing the verification test.

Note: A copy of the CCTV inspection is NOT sufficient proof for obtaining a Compliance Certificate. A Compliance Certificate is only granted after passing a verification test.


If necessary, have your PSL repaired or replaced.
Schedule an inspection with EBMUD.
Your contractor will set-up and administer the verification test per the provided guidelines. EBMUD will witness the test and confirm that your PSL is free of leaks.
If your lateral does not pass the verification test, additional work will be required on your PSL. The verification test must be rescheduled with EBMUD.
If your lateral is free of leaks, a Compliance Certificate will be available for you shortly thereafter.
Download and print your Compliance Certificate.
Disclaimer:
EBMUD issues compliance certificates solely on the basis of the performance of the tested sewer lateral in a verification test performed in the presence of EBMUD personnel. The verification test is designed for the sole purpose of determining whether the tested portion of a sewer lateral is free from leaks at the time the test is performed. By issuing this certificate, EBMUD warrants only that the tested portion of the sewer lateral passed a verification test on the date indicated. EBMUD makes no warranty, representation, or guarantee as to the sewer lateral's existing or future condition or its compliance with the legal standards of any other jurisdiction, including building or construction standards without limitation. EBMUD expressly disclaims any and all warranties, both express and implied, as to the sewer lateral's condition or compliance with legal standards and shall bear no liability in connection therewith.